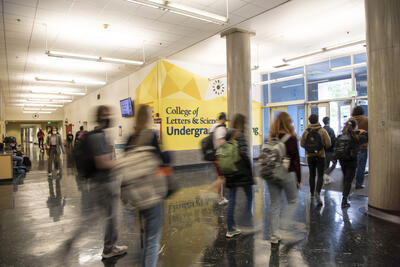 Updated: Spring 2023
At the L&S Advising Office, we love meeting with students and we see hundreds each week. Still, we know it can be difficult to get an appointment, especially at particular times during the semester. This article aims to give you a little guidance in getting the support you're looking for.
Tip 1: Understand the appointment system
Each L&S Advising Neighborhood (determined by your intended or declared major) has two appointment booking systems: one for virtual and one for in-person appointments. 
L&S College Advising appointments open (i.e. show up as bookable) exactly seven days in advance of each time slot. For example, on Tuesday at 9am, appointments for the following Tuesday at 9am will show up and can be booked. At 9:30, a new batch of appointments (for 9:30 the following Tuesday) will become available. 
We offer appointments Mon-Fri, 9am-Noon and 1-4 every half hour.
Why the seven-day limit? We've found that appointments booked further out than that have a high no-show rate. When appointments are booked, but not attended, that creates issues with availability. 
What does this mean for you?
Book smarter, not harder! If you spend a Sunday refreshing the appointment system, you may become frustrated. Because L&S Advising isn't open on weekends, no new appointments will become available during weekends unless another student cancels their appointment. But targeting the start of half hours (9, 9:30, 10, etc.) on weekdays will increase your chances of seeing new appointments as they're released. 
Tip 2: Widen your scope
Maybe you worked with before and want to see them again. Maybe there's someone in your Advising Neighborhood you think you'll really click with. We support finding an adviser you like and work well with.
That said, it's valuable to know that all L&S College Advisers in your neighborhood can help you understand your degree requirements, do general program planning, and answer questions about policies. Another adviser can pick up where you left off with your previous adviser and build off that work. So if you're feeling a sense of urgency, consider making an appointment with the first available L&S College Adviser in your Advising Neighborhood. You can always schedule a follow up with the L&S Adviser you feel most connected with when you're not in a crunch.
Don't forget: L&S College Advisers are not the only advisers!
Also, remember you can meet with a Major Adviser in your intended major department, even if you're not declared, for questions related to majors. Major Advisers are different than L&S College advisers in that their advising focuses specifically on a major. So, if you're trying to get into L&S College Advising for questions related to a declared or intended major (declaring, major planning, etc.), consider making an appointment with a Major Adviser instead. You might not only have better luck getting a timely appointment in a smaller department, but a Major Adviser may be better situated to answer your major-specific questions. 
You can find links to Major Advising by first choosing that major from the list on our Appointments and Advice page. 
Tip 3: Know your peak periods
Each semester, advising across campus sees a high demand for services during two distinct periods: at the beginning of the semester and as we approach Phase 1 enrollment for the following term. The first peak period tends to drop off after the add/drop deadline and the second tends to drop off after first year students start Phase 1. When we're in a peak period, you'll see a yellow alert notice on the top of our appointment scheduling page. 
You can't always time when you need support, but if you can book during non-peak times, you'll experience easier access to advising appointments. Think about planning your next semester's schedule before the schedule of classes is released or creating that four year plan after Phase 1. 
Insider tip:
Spring break is typically our least booked week of the year!
Tip 4: Discover our other access points
L&S Advising has presences in other offices on campus to provide access to students who are often historically underserved. If you are connected with the following offices, ask them about L&S Advising hours in their location: 
If you are served by one of these centers, contact that office to learn more about their L&S College Advising satellite hours. 
Also, for students interested in premed, pre-health, pre-law, or MA/PhD programs, our Pre-Professional Graduate Programs Advising team holds a weekly group advising drop-in service and workshops. 
Tip 5: Get live support instead
Did you know L&S Advising offers live advising support during our open hours? Students are often surprised by how many questions our Virtual Front Desk (VFD) can answer. While an appointment is a better option for an in-depth conversation, if you're wondering about policies, procedures, petitions, or even who would be the best person on campus to answer your question, our VFD can provide you with information in real-time.
Our Virtual Front Desk consists of intake advising staff, peer advisers, and even L&S College Advisers, who are all trained to answer your questions. We also have Evening Virtual Front Desk hours during Fall and Spring semester staffed by our peer advisers if you have a quick question after-hours. 
We also offer support over email at asklns@berkeley.edu and typically respond to emails within 3 business days.
Back to Discover Opportunities and Connect on Campus

Related articles and media