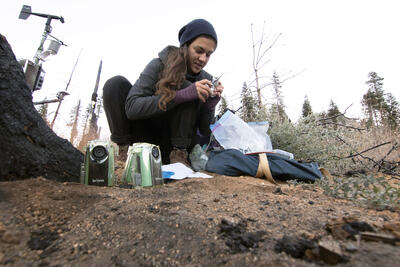 If a MA* or PhD is a stepping stone to your career goals, knowing what those programs look for in applicants can help you prepare. Today, we'll highlight the three most important factors to getting into a graduate program.
*For this article we will use MA as a shorthand for all master's programs. The same information applies to other master's degrees such as MS, MPH, MSW, etc. 
1. Your Academic Record
Because MA/PhD programs are academically rigorous, your college transcripts will be reviewed. Admissions will pay particular attention to the subjects that relate to the program you're applying to, but your overall GPA and trends in your record will be relevant.
Because of the variety of MA/PhD programs, GPA requirements can range significantly. For PhD programs, if you have done well in your area of interest, you could feel fairly comfortable if your cumulative GPA is around a 3.5 or higher, but if you have a slightly lower GPA, you still have a shot, especially if other aspects of your application are strong.
MA programs vary more widely. For professional programs or terminal master's (ex: MSW, MPH, etc.), the same GPA guidance as for PhD programs would generally apply. For academic master's programs, especially ones designed with the intention of preparing you for PhD programs (ex: history, sociology), having around a 3.0 or higher keeps you in the game. 
Strategy
Assess how much you can realistically take on in your schedule (both in and out of the classroom) to be able to focus on your grades.
Prioritize your schoolwork over other commitments while in undergrad where possible. 
Review our Connect with Academic Support page for resources and tips. 
If you encounter personal obstacles that prevent you from focusing on your schoolwork, talk with an academic adviser right away to discuss options. Consider taking a smaller courseload or even a temporary break from school so your record accurately reflects what you can do in the classroom. 
2. Research or Other Hands-On Experiences
PhD programs revolve around research, building toward a dissertation, so research experience is a necessary and highly valued part of your application. If your research experience in undergrad is limited, you can discuss ways to supplement this with experiences after graduation with an L&S Pre-Professional Graduate Programs adviser (see link below) or a Career Center counselor. 
MA programs come in two main varieties: academic and applied. Academic programs will focus on research and might prepare you for entering a PhD program, teaching in that field, or for careers where an advanced degree in a subject is valued. For these programs, having research experience is important for your application, even if it's limited. Applied programs are typically career-focused and will look for hands-on experience related to that career. This might take the form of volunteer work or an internship. 
Strategy
After adjusting to your academics at Cal, look at options for hands-on experiences during your undergrad experience. If you need more energy focused on earning strong grades in your major, talk with an L&S Pre-Professional Graduate Programs adviser or Career Center counselor about options on how to fit this in. Typically, this hands-on experience should be prioritized above pursuing a second major or minor if your goal is MA/PhD. 
Check out our Discover Research page or our Discover Career Prep page based on your pathway for resources and opportunities. 
3. Letters of Recommendation
Because you work so closely with faculty throughout MA/PhD programs, strong letters of recommendation are important for your application. For most programs, you will be required to submit three letters. Some programs will require that all three be written by faculty members, but some will accept one from another source such as a work supervisor, particularly if it's relevant to the program. 
Strategy
If you're in a course with a professor you like, visit office hours. Ask questions about their research, share your goals, ask for course recommendations, and if you have the time in your schedule, ask for extra readings related to your interests. If you make a good connection, keep visiting that faculty member even after the class is over to maintain that relationship. This allows them to get to know you well before asking for a letter of recommendation.
Research faculty on the websites for your major and related fields. If you find someone whose research interests are intriguing, follow the same advice as above even if you don't have a class with them. 
If you get involved in research, remember that the faculty member you work with or who heads the lab is a great source for a letter. 
Other factors for MA/PhD
MA/PhD applications may also require test scores, statements of purpose, or other materials. As you develop a clearer understanding of which type of degree you're interested in, check out the websites for specific programs to get an idea for what's commonly requested. If you have a dream program, review their admissions criteria early so you know how to plan your goals. 
For more support, check out L&S Pre-Professional Graduate Programs advising.