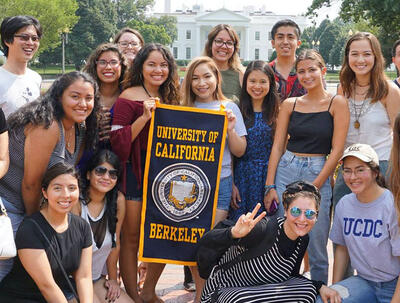 UCDC (also known as the UC Washington program) is an internship program that allows you to work, live with other UC students, and earn academic credit while living in Washington, DC for a term. Mary Crabb, Program Manager for UCDC for UC Berkeley students offered to help by answering some of our undergrad's most common questions about the program!
UCDC is only for students who want to work in politics, right?
The UCDC program is open to all majors and there are exciting internship opportunities in many fields--politics, of course, but also in the arts, media, advocacy, environmental studies, international development, education, business, technology and science policy. Interning for a semester in DC gives students the chance to explore potential career paths, gain hands-on experience and training, and build professional networks in a range of career areas.
Is there an advantage to doing UCDC instead of just looking for an internship on my own?
The UCDC program provides individualized resources and guidance to students during the internship search process, as well as continued support and professional development opportunities during the UCDC semester, such as workshops, networking events, and a mentorship matching program.
What's the experience like? What kind of classes would I take?
Students who participate in UCDC are part of a tight cohort of like-minded, motivated students who live and take classes together at the UC Washington Center, located in the heart of DC, within walking distance of the White House and close to two Metro stops. The Center provides a home-base for students as they explore DC and organizes many events and outings for students.
UCDC students take two weekly classes, a core seminar and an elective. A variety of courses are offered each semester with topics ranging from American politics and law, international development, media studies, and a research writing seminar. Some electives include outings to DC theater, museums, Congress, and other DC institutions.
What kind of academic credit can I earn during UCDC? Can it count toward my major?
UCDC courses are worth 4 units each and students earn 6.5 units for their 3-4 day a week internships (minimum 24 hours/week), for a total of 14.5 units for the semester. Multiple UCDC courses are approved for upper division major credit in Political Science, as well as other majors such as Media Studies, Legal Studies, Political Economy, Sociology and others with departmental approval. All courses are in the Berkeley schedule of classes and will appear on students' CalCentral schedules.
I'm nervous about applying to these internships...
Students who are accepted into the UCDC program will work closely with both the campus UCDC advisor and a DC-based internship advisor as they prepare for and undertake the internship search. Students will receive individual support and feedback on their resumes and cover letters, interview strategies, how to communicate with internship placements, and how to get the most out of their internship experience.
The UCDC program also hosts an online UCDC PREP series that walks students through the internship search process and other professional development topics. In addition, the UCDC program maintains an extensive DC internship database of current opportunities and employers who have hosted UCDC interns in the past . UCDC students have a strong track record of success at a wide variety of internship placements ranging from Capitol Hill, federal agencies, advocacy groups, international organizations, think tanks, museums, national media outlets, law firms, consultancies, research operations and more.
How much does UCDC cost? Will I be able to afford it?
Financial Aid does cover the costs of the UCDC semester, with aid adjusted to meet the program budget including airfare, housing at the Washington Center, and professional wardrobe. In addition, there are a number of scholarships and grants for UCDC students and some internships are paid.
Conclusion
The UCDC program is a fantastic opportunity that helps you make progress toward your degree and your future goals at the same time! 
Check out the UCDC website to learn more about the program.