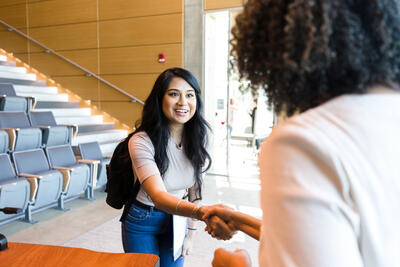 It is common to feel nervous about using office hours, either for support in a course or when you're trying to get to know faculty or GSIs. Today, we're sharing tips and suggestions for how to get your conversation started!
Tips
If you introduce yourself by email, don't be discouraged if you don't hear back or if the response is short. Faculty get a lot of email and it can be hard to communicate a warm tone this way. You can always introduce yourself in person for more immediate results. 
You can go to office hours for faculty even if you are not enrolled in one of their courses.
Use office hours early if you are struggling in a course or if something comes up in your personal life that might affect your ability to meet deadlines.
You do not need to stay the whole time! Office hours are a window of time where your faculty or GSI is available.
If you know you will need a letter of recommendation in the future, try to develop a relationship with a faculty member early so they can get to know you more deeply.
Opening lines to break the ice
For support with a course
I think I understood the reading, but I am not sure. Could I go over it with you?
Could you tell me two specific areas where I could improve for next time?
I'm having difficulty in class right now because of an issue that is impacting my work. Could I talk about it with you?
This assignment is very hard for me. Could we talk about how to do it together, step by step?
For relationship building
I'm still trying to figure out my major. How did you know you wanted to study your field?
Just popping in to say hello. I'm enjoying your class.
I was really interested in [X] topic, can you recommend any related readings or classes I should look into? 
I read on the department website that you research [X]. Can you tell me more about your research?
In the reading, I found X [specific example] interesting because of what it tells us about Y [larger phenomenon]. 
More articles and support
Check out these two great articles on office hours from the Daily Cal:
For one-on-one support, L&S Mentors can help you approach office hours in a way that works toward your goals and provide encouragement and guidance through the process. They can also provide support with related topics, including enhancing your academic skills or planning for graduate school. 
Back to Discover Opportunities and Connect on Campus

Related articles and media