Welcome to the Social Sciences "C" Advising Neighborhood!
The Social Sciences "C" Advising Neighborhood is made up of the following majors:
African American Studies
Anthropology
Asian American and Asian Diaspora Studies
Chicano Studies
Ethnic Studies
Gender and Women's Studies
Native American Studies

Sociology
Your advising neighborhood includes L&S College Advisers and Undergraduate Major Advisers. While these advisers answer different questions (see the diagram below), they work together to make sure you receive a consistent advising experience. 
Click here for a text-only version of this diagram.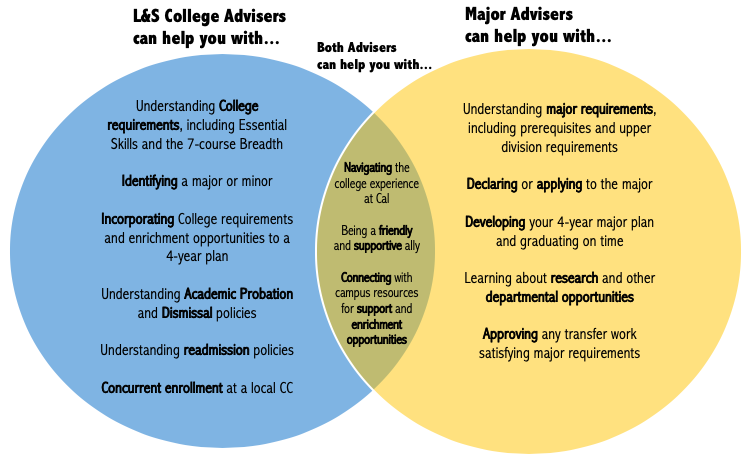 Sometimes you will need to see both advisers for questions that impact both general and major requirements (such as creating a thorough program plan). 
Still unsure which adviser is the best fit for your question?
We're here to help! Visit our College Advising vs. Major Advising page or, for live support, our Virtual Front Desk. 
Meet the Social Sciences "C" L&S College Advisers
L&S College Advisers help with questions about L&S College policies and procedures, such as the topics found on this website. Being part of this advising neighborhood helps us be aware of your major when advising you on these policies. Here is a list of common topics you would discuss with your L&S College Adviser: 
Satisfying your non-major degree requirements 
Choosing a major or minor
Exploring transfer work options for non-major requirements
Clarifying academic options if you are struggling with a class
Incorporating college requirements and enrichment opportunities to a 4-year plan
Connecting with campus resources for support