As you approach your second year at Cal, you hopefully feel a little more comfortable with the basics of being a UC Berkeley student. Now, you may be ready for some bigger picture questions such as: 
Identifying where you are and what next steps you should take in major and career decision-making processes
Which campus resources can help you meet your basic needs and reach your potential and how to access them
How to assess your progress toward graduation and make a plan for your remaining semesters
Sophomore Rising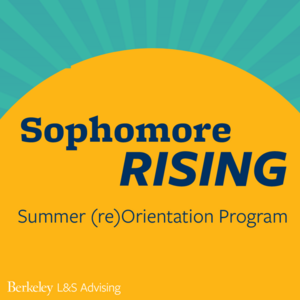 Sophomore Rising is a free summer re-orientation bCourse designed for 3rd and 4th semester sophomores to help you take the next step in your academic journey with increased confidence. This 6-week, guided bCourse is an opportunity to produce a semester-by-semester plan outlining remaining coursework and activities outside of the classroom that support your goals. Summer sessions enrollment is NOT required. 
Sophomore Rising is also designed to help you feel:
Clearer around major and career decisions as you complete modules focused on major exploration and Career Center guidance.
More aware of what you need and where to look for it through self assessments and connections to a myriad of relevant resources.
Increased confidence in your plan and feeling on track with the progress you have made so far 

culminating with the creation of a semester-by-semester plan.
When
The bCourse runs June 21-Aug 13 (alongside Summer Session C).
Commitment
Each week, you will spend about an hour reviewing asynchronous materials and participating in your choice of live or asynchronous discussions. 
Unsure if you can finish? While we hope you will complete the materials and engage with the class's community of students during the six weeks, there are no negative consequences for not completing the program. You will have access to all the materials.
This bCourse is not graded or unit-bearing. Instead, Sophomore Rising is a unique opportunity to get guided support for planning for your remaining time at Cal. This course will help you design an undergraduate experience that will be memorable, supportive, and lead to taking that big next step after you have earned your B.A. 
Sign Up!
Sign up today for access to the bCourse and to receive notifications as we get closer to the course's start date.