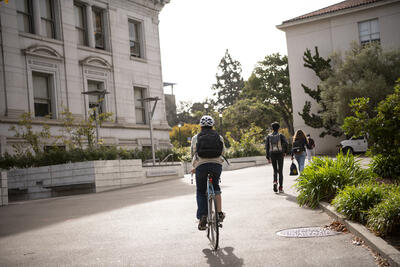 If you entered Cal as a first-year student, you may may remember a flurry of support for your transition. Everything was new, overwhelming, and exciting!
By your second year, campus feels more familiar and new questions start to come up. You might be making decisions about major or still trying to find your stride in the classroom. Maybe you're thinking about your future and wondering how to head in the right direction. Your sense of purpose might be on your mind as you consider which opportunities would allow you to make a difference.
Thankfully, L&S Advising is here to support you in that critical, future-oriented sophomore year! This article covers three resources to help you get the most out of that second stage in your undergraduate journey. 
1. Sophomore Rising (Free online summer program)
Sophomore Rising is a free 8-week course that guides you through essential activities to plan, build, explore, and track your goals and interests here at Cal and beyond. In this course you will:
Identify the next steps in your major decision-making process

Take action to explore future career and graduate school plans

Connect with relevant campus resources

Assess your progress toward graduation and create a semester-by-semester plan
The course is self-paced and you have the option of participating in discussions asynchronously or, for a chance to build community, during live sessions. These live sessions take place remotely so you can participate from wherever you're located. 
Check out Sophomore Rising (page updated every Spring). 
2. Sopohomore Success in L&S Courses